Welcome to Core District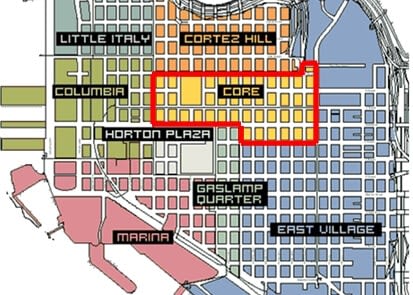 The central government and financial and corporate institutions are concentrated in the Civic/Core District, which extends from A Street to Broadway and Union Street to Park Boulevard. Restoration and revitalization of many of the historic buildings are adding new residential, retail, and commercial opportunities in the heart of downtown. City Hall is here and the historic Copley Symphony Hall and San Diego Civic Theater integrate arts and culture in this neighborhood. The trolley runs along C Street, a major east–west artery in this district, and plans are in the works to improve this important travel corridor.

In the near term, these plans include safety and landscape improvements; in the future, projected plans address the entire public realm of the corridor and its function as a link to essential services available in City Hall and the Civic Center.