Welcome to Gaslamp District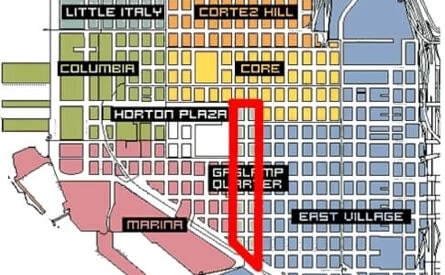 The Gaslamp Quarter, named for the historic Horton Plaza Park, downtown redevelopment began with the opening of the Horton Plaza shopping and entertainment center in 1985. The fifteen-block area is the center of downtown's commercial activity and includes high-rise office buildings, stores, hotels, theaters, and restaurants. San Diego's Walk of Fame features statues of Alonzo Horton, former Mayor and Governor Pete Wilson, and Horton Plaza developer Ernest Hahn. The historic Balboa Theatre, one of the oldest performing arts venues in San Diego, was completely restored by CCDC and reopened as a live performance and conference venue in 2008. Revitalization has spilled into the Gaslamp Quarter where Alonzo Horton first encouraged downtown redevelopment in the 1870s by building a wharf at the foot of Fifth Avenue to facilitate trade with the area's retail stores.
The 16.5-block neighborhood is listed on the National Register of Historic Places, and the 94 structures identified as historically or architecturally significant now house more than 100 restaurants and nightclubs, movie theaters, stores, offices, galleries and lofts. Yearly events including Mardi Gras, Taste of Gaslamp, and ShamROCK draw thousands of visitors to experience the vibrant and unique atmosphere.